Hello everyone! Do you enjoy building in Minecraft? Have you ever wanted to build for Galaxite? Now's your chance! We're excited to announce our Core Wars Map Contest!
Build a Core Wars map, either for solos and duos. We've provided two different templates for you to use, complete with tips and instructions! Build at least 1/4th of the map and we will copy paste it to complete the map.
Each map must have:
• 2 spawn islands/bases built with a core and an iron drill, a spawn point and 2 shop points marked out. 1-2 Ender Chests should be placed somewhere near the shop points.
• 2-3 diamond drill islands
• The center island with four emerald drills marked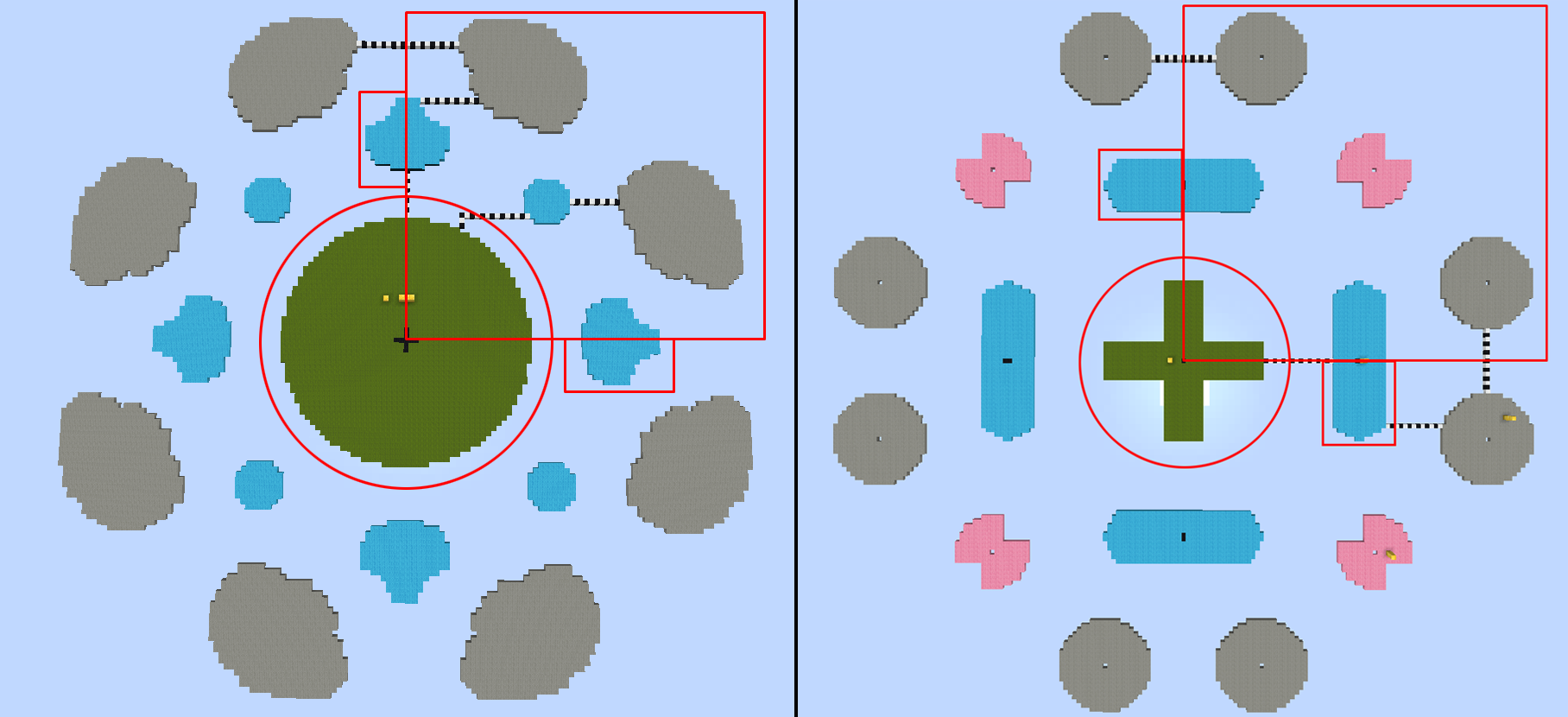 Tips & Tricks:
• Make sure to read all of the signs posted around the template. There are many tips and requirements that are important to your build being considered!
• The more you build, the better our understanding of what your theme and goal is of the map. If you're unsure whether you need to build a section or not, it's safe to assume you should build it!
• Each map should be a unique theme that hasn't been done before on Galaxite.
• Include 1-3 screenshots of the build in your submission.
Guidelines:
• You may submit up to 3 maps and you may work in groups of up to four people!
• The map(s) should be built by you. If someone submits a map built by someone else or stolen from somewhere, they'll be banned.
• You can build in Java or Bedrock, templates are included for both.
• Up to 3 winners can be selected! Winner(s) could possibly be asked to make a quads version of their map.
• All submissions must be entered before March 1st!
How to import and export Minecraft Worlds:
We've provided a rough-guide to import and export maps for both versions of Minecraft, but if you need more help, we suggest you look up a YouTube tutorial to give you a visual of how to do it.
Java: Go to your ".minecraft" folder on your computer and go to the Saves folder. You can add the template by dragging the Java Zip file into that folder and unzipping it. To export the completed map, select the same world and zip it. Then upload it a file-sharing site and send it to us! Make sure to have sharing settings configured so we can view your build(s).
Bedrock: To open the template, simply double-click Bedrock file and it will import the template into your game. You can then join it from your worlds! Once it's finished, from the "worlds" menu, click the edit/pencil-button and scroll all the way to tbe bottom of Game Settings. Click the button "Export World" and save it. Then upload it a file-sharing site and send it to us! Make sure to have sharing settings configured so we can view your build(s).
Prizes:
Winners will be given the Season 3 Battlepass and other vanity items tailored to the winner(s). Their map will be added to Galaxite and the creator's names will be displayed below the map name when the map is selected during games.